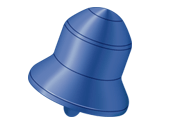 Carillon® ERP Spurs Productivity with its New KwikTag® Integration
Carillon® ERP's Unrivaled Functionality and Archival Capabilities Combined with KwikTag's Document Imaging Solution Create an ERP System with High Productivity Levels but Low Environmental Impact.
DALLAS, TEXAS – Carillon® ERP (www.CarillonERP.com), one of the longest-standing developers of ERP software systems worldwide, proudly announced its new integration with KwikTag® by ImageTag (www.KwikTag.com), a transactional content management and document imaging solution. This integration will only further the usefulness, ease of use, and environmental friendliness of the Carillon® ERP product.
Since its inception, Carillon aimed to make its clients' businesses run more productively, more efficiently, and more profitably. This includes the ability to store all of the companies' necessary documents on the server rather than in often ill-managed file cabinets.  Easily accessible, virtual records not only foster a more productive company, but also allow the company to have a smaller environmental footprint. Now with their KwikTag® integration, Carillon clients not only have the ability to get rid of typical business documents; they can also capture, store, search, and retrieve any type of document throughout their entire enterprise. Moreover, regardless of whether the document was mailed, emailed, or saved to a shared location, the KwikTag® integration within Carillon® ERP allows employees to connect important documents to related information and calculations. This exemplifies Carillon's long-standing strategy to help simplify the success of its customers.
This new integration also lends itself to environmental awareness and conservation. Carillon consistently takes a thoughtful approach when developing, enhancing, and integration new products. Examples of this range from their long-running Cloud capabilities to their nearly unlimited financial document storage.
Carillon's President and CEO, Larry R. Pettit, CPA, CITP, CGMA, says, "I have always tried to create a product that provides value and is easy to use while keeping in mind responsibility. Although Carillon® ERP is not explicitly created as a "green" product; I can say that it is a world class ERP solution that aims to better businesses while keeping in mind environmental responsibility."
---
About Carillon
Carillon Financials Corp. is the developer of Carillon's ERP and CRM Solution. It was founded in 1990 and the development of Carillon® ERP began in 1992. Its first installation was performed in 1994. Carillon brings experience to the marketplace with its expertise in design, development, consulting, and use of Know it now℠ management. The company was ranked among the top ten mid-market ERP solutions by The Journal of Accountancy and has installation throughout the world, including the U.S., Canada, the South Pacific, and Bermuda.
Carillon® ERP was designed and developed from the beginning to provide a complete ERP solution, keeping in mind the end users perspective. It features rich, real-time manufacturing systems. It provides the end user with up-to-the-second information allowing instant access to business critical information. Carillon® ERP is a fully integrated business software solution that provides complete control over the planning and management of all facets of business including accounting, manufacturing, and distribution operations in a variety of industries.
---
About ImageTag, Inc.
KwikTag®, by ImageTag, is the market-leading transactional content management application and platform solution. Implemented in days and easy to use, KwikTag® delivers document imaging, content-based retrieval, instant audit, multi-document case management, workflow routing, approval and tracking for greater cost control, audit ability and efficiency. KwikTag® is fully embedded in Microsoft Dynamics GP, AX, NAV and Microsoft SharePoint or can be used stand-alone throughout the enterprise. Easy to implement pre-configured KwikApps™ provide a complete business solution for processes including purchase-to-pay, order-to-cash, human resources, and more. Years of experience creating comprehensive, yet cost-effective, solutions ensure KwikTag delivers value with a fast ROI and low cost of ownership.  Learn more at www.imagetag.com.