Authorized Consultant & Reseller Programs
Authorized Consultant Program
Providing ERP implementation consulting services is one of the most lucrative services a firm can provide. Many consultants, like the president of Carillon ERP, decide it is far more enjoyable than tax and audit services.
Benefits:
Earn 10% of the license fee for referrals of new customers (some restrictions apply)
Billing rates ranging from $150 - $350 per hour are not unusual for ERP implementation experts
Free telephone support when assisting mutual clients (some restrictions apply). This includes direct phone access to developers and quality assurance personnel
A not-for-resale license of Carillon for self-training and demonstration purposes
Allowed to use Carillon Authorized Consultant logo in an approved manner
Listing on Carillon's website
Feedback for future enhancements given priority
Contributing member of www.carillon.info
Requirements:
Carillon Authorized Consultants must successfully complete a 40-hour Authorized Consultant Training course taught by Carillon executives, developers and quality assurance personnel. Equivalent knowledge exceptions may be granted on a case-by-case basis if you have previous experience working with Carillon ERP.
Carillon Authorized Consultants must have a computer on which they maintain the current version of Carillon ERP (which is provided as a benefit above). This is commonly a laptop with at least 2 GB RAM and a display capable of at least 1280 x 768 resolution. You must bring this computer to the training course. The laptop must also have a licensed copy of Microsoft Excel and a Microsoft SQL Server database (Express edition is adequate).
One-time fee of $495 to help offset the cost of the associated 40-hour training class.
Examples of Restrictions:
You may not earn a referral fee if the software is being licensed to your employer, an entity related to you or a member of your immediate family, or an entity related to your employer.
You can't send us a phone book of everybody in the USA and expect to get a referral fee.
Free support is intended for situations where you are a third party consultant. It is not intended to replace your employer's need to purchase a support plan if your employer is using the product for internal use.
Authorized Reseller Program
To become an Authorized Reseller, you must first have an Authorized Consultant on staff and you must maintain at least one Authorized Consultant in your organization.
Additional Benefits:
Authorized Resellers earn a margin on the license fee that is actually charged. This takes into consideration that license fees may be negotiated.
No territory limitation exists, but the number of Authorized Resellers based in a particular area is limited.
Restrictions:
A member of the Carillon ERP management team must be given an opportunity to meet with the potential client, in person, prior to closing the deal. This will typically be done at Carillon ERP's expense. This helps assure the product has been properly represented and that it is likely that the client's expectations will be met.
Authorized Resellers are expected to close at least one deal per calendar year to maintain their status.
Carillon ERP management must approve the amount of negotiated license fees. This is usually just a formality but it protects Carillon from an unscrupulous reseller charging excessively for services while drastically reducing the license fee.
Here is a standard listing of the topics covered. Although your seminar may cover all of these topics, the trainers attempt to create the schedule based on the attendees' interests. If you have any specific requests, please let us know prior to your training so we can schedule your topics into the seminar. Multiple modules will be covered each day.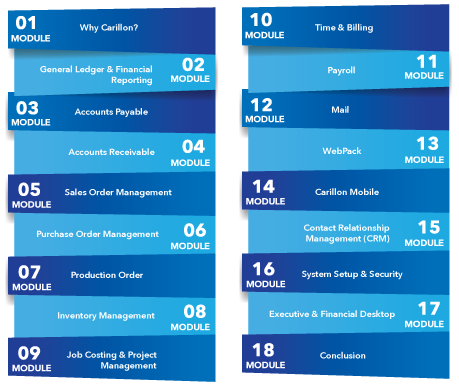 Carillon believes that "friends of the Firm" should be compensated in a legal and open manner when they contribute to the Firm's success by referring another company use our accounting software. To help accomplish this, Carillon has created a compensated referral program that anybody can participate in, although it is subject to some basic legal and ethical restrictions. For example, you or a related party cannot refer your own company.
To sign up for the Referral Program, please download the document Carillon ERP Referral Contract and send a signed copy to:
Carillon Financials Corp.
13601 Preston Road, Suite E300
Dallas, TX 75240